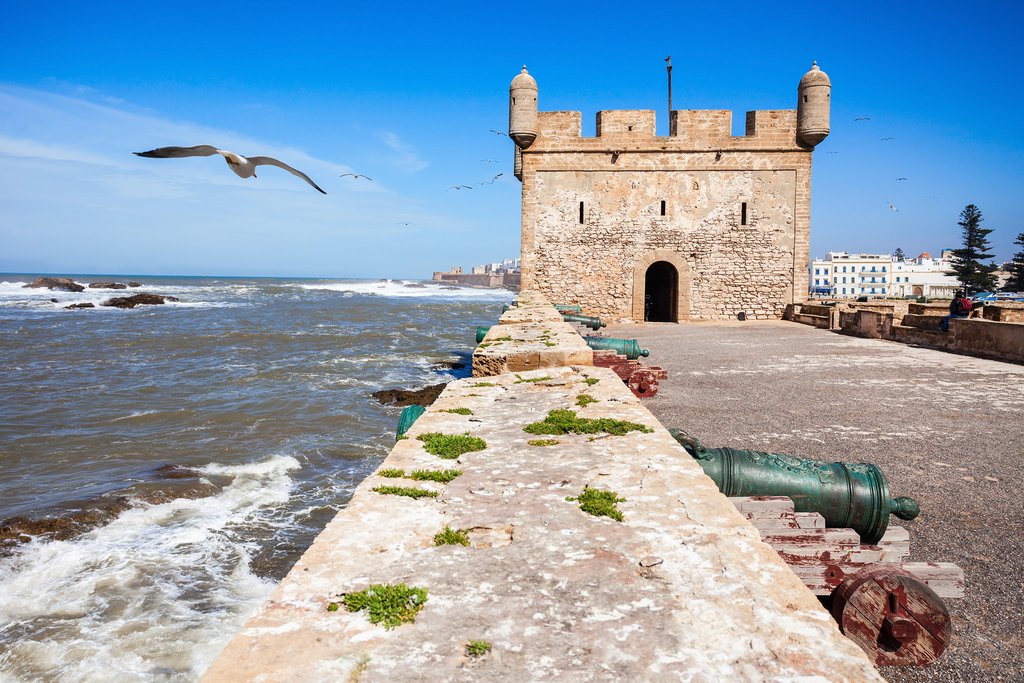 Ultimate Guide to Marrakech: Excitement & Style in a Major Moroccan Hub
Morocco's "Red City" captivates travelers from all over the world with its ornate palaces and gardens, sky-high minarets, spice-filled souks, and plazas alive with snake charmers and acrobats. Read on for advice and itinerary inspiration to make the most of a visit to dazzling Marrakech.
Discovering Marrakech
Lively Marrakech is stylish and exciting—and old as the hills. Founded by Yusuf ibn Tashfin around the year 1070, the city has Berber roots. During the Almoravid Dynasty, it used to be a vital trading capital for tribes of the
Atlas Mountains
. Marrakech earned its nickname, the "Red City," because of its many red sandstone walls and buildings, many of which date back to the city's early days. Today, it's a cultural hub and a magnet for travelers interested in history, architecture, and hunting for treasures in the city's colorful souks. Marrakech is also a good jumping-off point for side trips into the nearby mountains. Read
this article
for ideas on what to see and do outside the city.
Crafting Your Marrakech Itinerary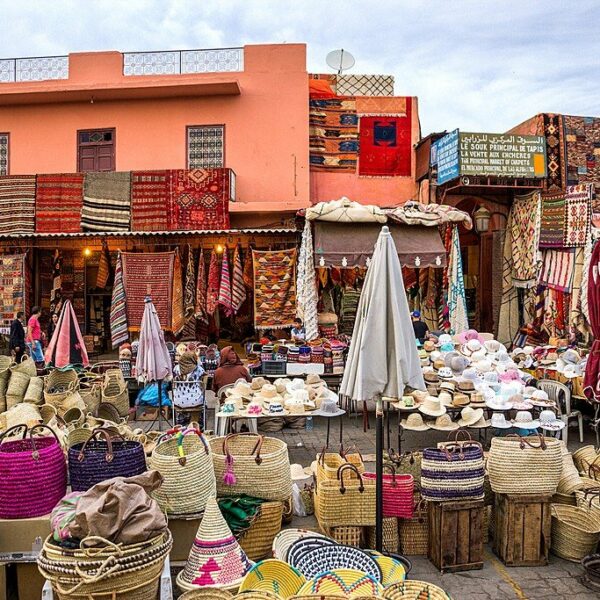 Begin at the famed
Jemaa el Fna Square. 
From this central location, you can walk north to the souks: try the
Souk el Attarin
for spices,
Souk Haddadine
for blacksmith goods, and
Souk Smata
for slippers. One souk not to miss is the
Souk des Teinturiers
, the dyers' souk. Here you can see locals dying and hanging cloth and yarn to dry in the Moroccan sun. A walk through the souks is a good introduction to the sensory overload of the
Medina
. Spend your first day wandering the alleyways and hidden side streets of the walled city. Look out for
 Fondouks
—large open spaces and courtyards that were once inns used by visiting traders and merchants—which are unique to Marrakech. Today, some have been converted into residential places, while others are large shopping areas and workshops that you can explore at your own pace. Also located in the Medina is the
Medersa Ben Youssef
, a Koran school built in the 16th century. Since then, it has been beautifully renovated. Inside, marvel at the uniquely carved cedar, stucco plaster, and traditional Zellij tiling in the central courtyard. You can also enter the old dormitories, where 800 students once lived, and the prayer hall. Make your way back to Jemaa el Fna Square as the sun goes down and the street food comes out. It's the perfect time to try some local delicacies, dried dates, and fruit juices as you watch street performers and snake charmers do their thing.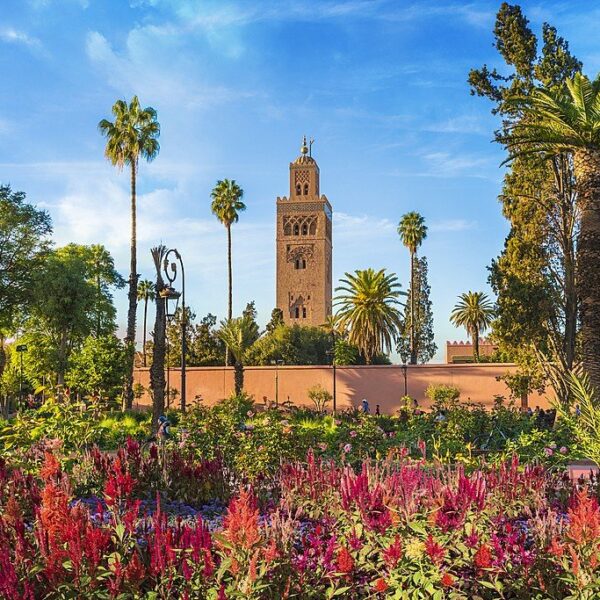 If you have more than one day, take a stroll from your hotel to
Koutoubia Mosque & Gardens,
the city's largest mosque. Although non-Muslims can't enter, the stately landmark has beautiful gardens in the back, filled with fountains, pools, palm trees, and flowers. It's an ideal place for a stroll when the late afternoon sun glows on the minaret. Another highlight for many travelers is the
Majorelle Gardens
in the
Ville Nouvelle
neighborhood. Take a metered taxi from your hotel (or a 30-minute walk) to escape the afternoon heat and wander these expansive gardens filled with sub-tropical plants, bamboo, lilies, and palms.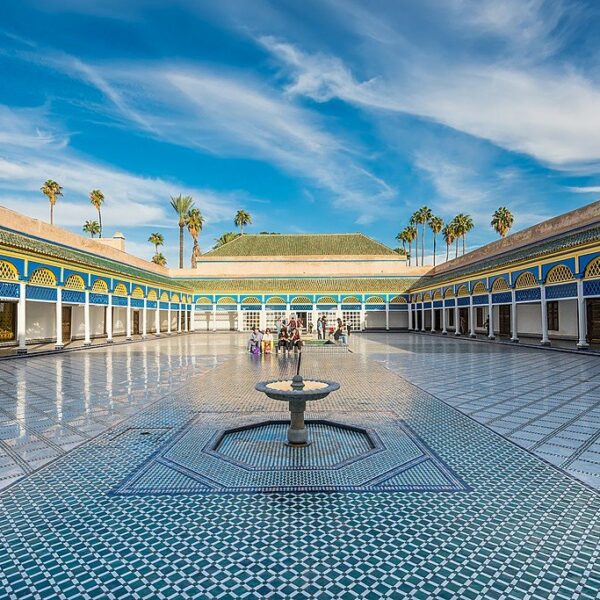 If you have three days or more, spend time visiting 
Bahia Palace
. Built in the 19th century, the palace was known as the largest and most luxurious in Marrakech. Today you can explore the beautiful courtyard and gardens, and inside the building, admiring intricate woodwork and painted ceilings. For those interested in Morrocan artwork, the 
Marrakech Museum
houses a collection of sculptures and paintings inside the 
Dar Mnebbi Palace.
To see some incredible woodwork and traditional
palanquins
(covered litters used to transport a bride on her wedding day), pay a visit to the
Museum of Moroccan Arts and Crafts.
If you're looking to get out of the city for a day trip, consider a visit to 
Amizmiz, 
a small village at the base of the Atlas Mountains. From here, take a one- or two-day hike, or just relax and observe Moroccan rural culture up close. Beachgoers can take a drive to 
Essaouira
. This coastal town has a fortified Medina and beaches perfect for surfing, windsurfing, or just lounging. It takes over two hours to get there so you'll want to stay overnight.
When To Go
Shoulder season is the best time to visit Morocco. From March to May and September to November, the weather averages between 70°F and 80°F. Planning your trip during the slower months also means fewer crowds and better deals.
Getting To Marrakech
There are no non-stop flights to Marrakech from the United States. Most flights stop in
Casablanca
or a European city before arriving at 
Marrakech Menara Airport
. The airport is less than five miles outside of town, so getting into town is a snap. Private transport will pick you up at the airport with a clearly marked sign, and take you directly to your hotel (or directly on a tour, if you like). Alternatively, you could hop into a petit or grand taxi. A petit taxi seats up to three people and will take you to the city center for a fixed price. A grand taxi seats up to six people.
Where To Stay In Marrakech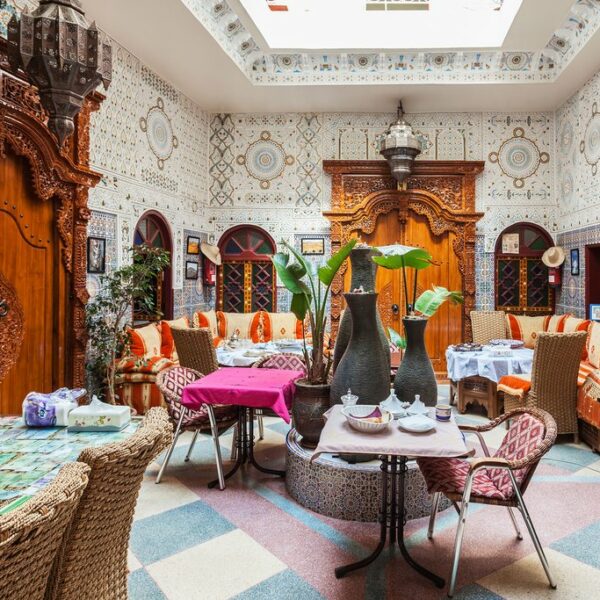 One great thing about Morocco is that you can stay in a wonderful hotel for a reasonable price. A perfect example is the
Riad Kniza
, located inside 
Bab Doukkala
, one of the main gates of the Medina. This 200-year-old mansion is owned by one of the country's most famous antiques dealers, so you can expect a beautifully decorated room to stay in after you've explored the Medina. A prime spot near the Jemaa el Fna Square, the 
Riad Hôtel Marraplace
is a three-star hotel with a large fountain, terrace, Instagram-worthy doors, and detailed carvings throughout. The rooms are decorated in a classic Moroccan style, but the real draw is the location. In line with its trendy neighborhood of
Guéliz
, the 
2Ciels Luxury Boutique Hotel & Spa
embodies modern Moroccan chic. The Art Deco-style rooms have handcrafted Moroccan details, but the real show-stopper is the rooftop pool and bar with views of the city and the mountains in the distance. The hotel also has a traditional Moroccan hammam: it's the perfect place for luxurious steams and scrubs.
Where To Eat In Marrakech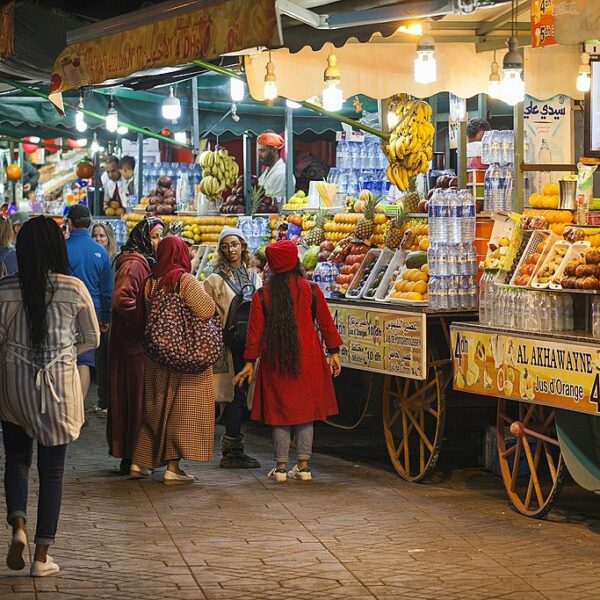 Street food is king in Marrakech: for a local experience, join the crowds sipping fresh-squeezed orange juice in Jemaa el-Fna Square or snacking on
ma'qooda
(deep-fried potato balls) on busy corners. For a dose of culture with your
kefta
 (ground meat) and falafel sandwich, check out 
Henna Café
, where you can sit in on language courses and even get a henna tattoo from their resident artist. Travelers looking for a formal sit-down meal can head to 
La Famille
, serving seasonal vegetarian Mediterranean food on an enclosed patio filled with banana and olive trees. Or treat yourself to an upscale dining experience with a reservation at 
Nomad
, a sleek Moroccan restaurant in the Medina with a rooftop cocktail bar and some of the best drinks in the city.
Local Tips for Visiting Marrakech
Carry cash (small bills) with you if you plan on taking pictures of any performers, souk owners, or snake charmers. They will expect money in exchange for a photo. Most major sights can be reached by walking or taking a metered taxi from your hotel. However, it's a good idea to hire a guide for a half-day (at a minimum) to teach you about the history, culture, and hidden gems found inside the Medina. Morocco is a Muslim country. As a respectful practice, dress modestly when out and about, especially near places of worship. It's best not to drink the tap water in Marrakech, so be sure to buy several bottles of water a day. Cut down on plastic by buying a big water bottle and refilling your smaller ones every day.