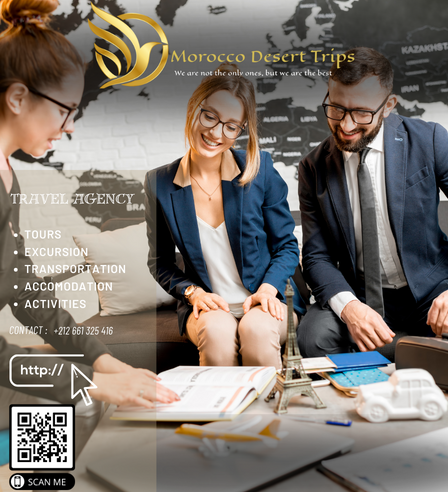 Morocco Desrt Trips Travel Agency
We are a full-service Destination Management Travel Company was established in 2012 in the heart of the friendly and welcoming city of Marrakech. In less than three years the company has made a strong reputation with a various Corporate Houses, Multinational Companies and Tour Operators, gained from our hard work and an in-depth destination expertise delivering successful projects on site. We are specialised in the special interest travel to Morocco. We focus on high quality, personal services, innovation attention to small details, and most of all we focus on delivering flawless travel experience. We believe that the best way to deliver the highest quality products and services is to really know our client's need
.
Ready for an unforgetable tour?
This was by far the most authentic experience you can have in Agafay. Said, our driver, was not only extremely knowledgeable and friendly, but he made sure to take us off the regular tail onto a more private and beautiful route.
Hello dear Sir Thanks for your comment on Tripadvisor. We're so glad that you had a lovely time and great experience with Morocco Desert Trips . We're looking forward to having you for more days to show you the mistries of Morocco .
Fantastic!! We had a great 4x4 vehicle that was very comfortable.The scenery was fantastic and I liked the fact that we didn't stop for lunch at touristy restaurants, so had a more authentic experience. The accommodation was excellent along with the food.
Such a wonderful experience! The guide told many stories about Moroccan history, culture, and religion. The desert is so unique. Camel ride was just long enough- we covered a lot of ground. Traditional tea in the tent was special.